Whoever said rainy days are depressing has obviously never seen what fashionistas can do with a rainy day! Rainy days don't have to be dreary – they can be a great excuse to get creative with your look as long as you know what to wear on a rainy day.
Sure, you may have gotten used to staying in your pajamas all day when it rains, but what if you want to step up your rainy-day style? Whether you're planning an outdoor excursion or want something to make your stay-at-home day a little more festive, this article has you covered.
We've compiled 20 flattering outfits to wear on a rainy day. From classic trench coats to cute rain boots and stylish umbrellas, you'll find plenty of ideas to help you brave the rain in style.
What Type of Clothes to Wear When It's Raining?
Before we get to the outfits, let's go over what types of clothes you should wear when it's raining.
Ideally, it would be best to look for waterproof materials such as nylon, polyester, and rubber. You'll want to avoid cotton since it can easily get soggy and heavy in the rain. Also, make sure your clothes are lightweight, so they don't weigh you down when you step outside.
What Is Best to Wear in the Rainy Season? 20 Flattering Outfits
Now that you know what type of clothes to wear when it's raining, let's take a look at the best outfits for rainy days.
1. Trench Coat + Jeans + Booties
This classic look never goes out of style and is perfect for rainy days. Pair a long, waterproof trench coat with jeans and ankle booties for a timeless yet stylish ensemble that will keep you dry and warm in the rain.
2. Raincoat + Skirt + Sandals
Want to show off your legs even when it's raining? Try a bright and bold-colored raincoat with a mini skirt and sandals for an unexpected twist on rainy-day fashion. Just make sure you're wearing waterproof sandals so you don't end up with wet feet!
3. Rain Jacket + Leggings + Sneakers
Rain jackets are often lightweight and easy to move in, making them perfect for a comfortable yet stylish rainy-day look. Wear it with leggings and sneakers for an effortless yet chic outfit that will keep you dry and warm.
4. Poncho + Jeans + Boots
Ponchos are the perfect solution for rainy days – they're lightweight, easy to move in, and can keep you dry from head to toe. Pair it with jeans and knee-high boots for a look that is both fashionable and functional.
5. Hooded Coat + Jumpsuit + Boots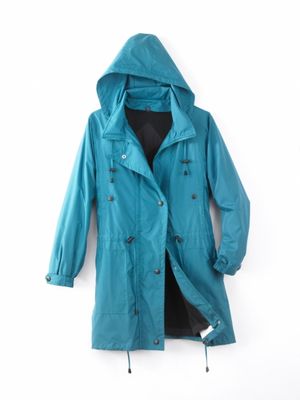 A hooded coat is essential for rainy days. After all, what's better than having your head covered? Wear it with a jumpsuit and boots for an outfit that will keep you dry and stylish.
6. Utilitarian Dress + Loafers
Try out this utilitarian-inspired look if you're looking for something a bit dressier. Wear a waterproof utility dress with classic loafers and accessorize with an umbrella for added flair.
7. Sweatsuit + Scrunchies
Coziness is key during a rainy day, so sweatsuits are always a great option. When paired with colorful scrunchies and rain boots, you'll have the perfect combination of style and comfort.
8. Slicker Jacket + Denim Shorts + Boots
This look is great for warmer rainy days when you want to show off some of your favorite pieces. A lightweight slicker jacket goes perfectly with denim shorts and a pair of rain boots to keep your feet dry.
9. Trucker Jacket + Leggings
Opt for a trucker jacket with leggings or skinny jeans for a more relaxed look. This comfy yet stylish outfit is perfect for running errands in light rain. Tucker jackets come in various colors and materials, so you can find one that best suits your style.
10. Puffer + Sweats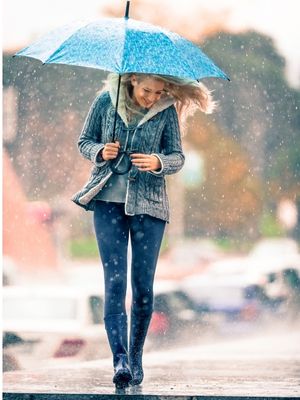 Puffer jackets are the perfect way to stay warm and dry during a downpour. Pair it with some comfy sweats for a cozy yet stylish look that will keep you dry all day. Name a color, and you can probably find a puffer jacket to match it!
11. Parka + Skinny Jeans + Sneakers
When it comes to rainy-day outfits, a parka is always a great choice. Parkas are waterproof and stylish, making them an ideal choice for rainy days. Pair yours with skinny jeans and sneakers for an effortless yet pulled-together look.
12. Midi Dress + Rain Boots
A midi dress is a great rainy-day staple that can be dressed up or down. For a playful look, opt for bright colors and pair them with colorful rain boots. This outfit will keep you nice and dry while keeping your style in check.
13. Hoodie + Athletic Leggings + Sneakers
Hoodies scream comfort, but they don't have to be boring. For a sporty look that still looks cute in the rain, pairs a colorful hoodie with athletic leggings and white sneakers. And if you want extra warmth, layer on a waterproof jacket over your hoodie.
14. Leather Jacket + Joggers
Whoever said leather jackets are a sunny day-only clothing item clearly hasn't tried this chic ensemble! A leather jacket with joggers is a great way to add a little edge to your rainy-day look. And since leather is fairly water-resistant, you'll stay dry without sacrificing style.
15. Oversized Turtleneck + Jeans
Opt for an oversized turtleneck if you want the ultimate cozy-chic look on a rainy day. The generous fit will keep you dry and comfortable, while the turtleneck adds a touch of elegance to your outfit. Pair it with skinny jeans and rain boots for an effortless yet stylish ensemble.
16. Rain Poncho + Shorts + Sneakers
A poncho is a perfect option if you want to stay cool in the summer rain. Choose one that's brightly colored or patterned to make a statement. Then, pair it with shorts and sneakers for an easy yet chic look.
17. Sweatshirt Dress + Sneakers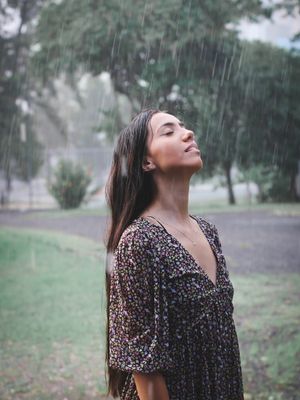 If you're looking for something comfortable yet stylish, a sweatshirt dress is the way to go. Pair it with sneakers and an umbrella, and you'll be ready to take on a rainy day in style.
18. Long Cardigan + Tank Top + Jeans
You can never go wrong with a cozy long cardigan and your favorite pair of jeans. Add a tank top for an extra layer of warmth in the rain, and you'll have a comfortable yet stylish outfit that will look fabulous no matter the weather.
19. Cropped Jacket + Dress + Sandals
Cropped jackets are becoming increasingly popular and for a good reason. They look great with almost any outfit, and they'll keep you dry in the rain. Pair a cropped jacket with a dress and sandals for an effortlessly chic ensemble that will have heads turning no matter what the weather.
20. Anorak + Denim Shorts + Sandals
Lastly, you can never go wrong with an anorak and denim shorts. This casual yet stylish outfit is perfect for rainy days when you want to look cute but still stay dry. Add a pair of waterproof sandals, and you'll be ready to take on any rainy day in style.
What Colors to Wear When It's Raining?
When it comes to dressing for a rainy day, bright colors can really make an outfit stand out. Choose from shades of yellow, orange, and pink to add some sunshine to your look. These upbeat colors will also help lift your mood on a gloomy day.
If you're feeling more daring, go for bold prints and patterns in bright colors. This will make your look even more eye-catching and help you stand out from the crowd.
What Should You Not Wear in the Rain?
When it comes to dressing for a rainy day, there are some things that you should avoid.
First and foremost, steer clear of materials like cotton and linen, which will absorb the water and make you cold and uncomfortable. Additionally, try to avoid wearing anything too tight or restricting — you want your outfit to be cozy and comfortable.
Bottom Line
Knowing what to wear on a rainy day can be tricky, but with the right pieces, you can look cute and stay dry. From hoodies to leather jackets to anoraks, there are plenty of stylish options that will keep you protected from the rain.