Rainy days can be a real mood killer, but they don't have to be! Instead of moping around, why not watch a movie that can put a smile on your face and warm you up?
There's no better way to cure your boredom than with a movie, so this article is here to help you find the best rainy-day movies that cheer you up and provide some much-needed comfort.
Grab some popcorn, snuggle up in a cozy blanket, and get ready for some classic films that will leave you feeling warm and fuzzy inside!
What's a Good Movie for a Rainy Day?
The great thing about the best rainy-day movies is that they aren't bound by any specific genre. Want to be transported to a magical world of fantasy? Check out 'The Princess Bride' for some swashbuckling fun. Prefer to laugh your heart out in a comedy classic? Look no further than the hilarious 'Groundhog Day.'
For an emotional tear-jerker, you can't go wrong with 'It's a Wonderful Life' or 'The Notebook.' Or if you're in the mood for a family-friendly adventure, try out 'The Wizard of Oz' or 'E.T..'
What Should I Watch on Netflix When It's Raining?
Netflix offers no shortage of movies for a rainy day, so why not explore the best that streaming has to offer? For lighthearted entertainment, start with 'To All The Boys I've Loved Before' or 'La La Land.'
Then there's the classic drama of 'The Shawshank Redemption,' and if you're up for an engaging mystery, there's 'Gone Girl' or 'Knives Out.' And if you're looking for something a bit out of the ordinary, try 'The Lobster' or 'The Witch.'
20 Recommended Rainy Day Movies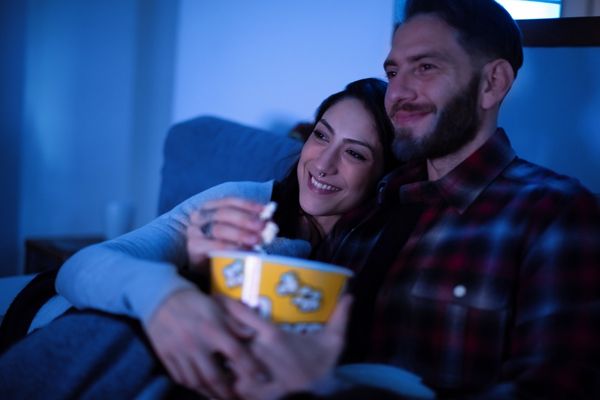 Don't let the spitter-spatter of rain put a damper on your day. Instead, get comfy and dive into the best movies for a rainy day that will keep you entertained and warm.
Here are 20 of the best rainy-day movies that are sure to put a smile on your face and make you feel all snug and cozy:
1. Ferris Bueller's Day Off
Since a rainy day is technically your day off, it only makes sense to watch 'Ferris Bueller's Day Off.' This classic comedy follows Ferris as he takes a day off school and embarks on an exciting adventure around Chicago.
2. Singin' in the Rain
In this iconic musical, Gene Kelly finds himself chasing his dreams of stardom while dealing with the challenges of making a movie while transitioning from silent films to talkies. You'll be singing and dancing in no time!
3. The Princess Bride
This classic fantasy adventure is full of childhood nostalgia and plenty of laughs. Follow Westley as he embarks on an epic quest to save his true love, Buttercup, from the hands of Prince Humperdinck.
4. Up
Pixar Animation Studios have several heartfelt movies, but 'Up' has to be one of the best. It follows an elderly man and his young stowaway traveling to South America in a flying house.
5. The Notebook
This epic romance follows Noah and Allie as they endure the highs and lows of young love. Noah is determined to win Allie back and make her his forever. This tear-jerking classic is sure to leave you with a warm heart.
6. The Breakfast Club
No rainy-day movie list is complete without 'The Breakfast Club.' This classic comedy follows five high schoolers who spend one long Saturday in detention and learn a thing or two about each other. The nostalgic vibes will keep you entertained.
7. The Shawshank Redemption
This classic drama follows Andy Dufresne as he serves two life sentences for a crime he didn't commit. While in prison, he befriends a fellow inmate and begins to plot his escape from the harshness of Shawshank Prison.
8. Harry Potter Franchise
Not liking where your day is headed? Then why not be transported to the magical world of Harry Potter instead? Follow Harry, Hermione, and Ron on their epic journey as they discover new secrets and fight the forces of evil.
9. Groundhog Day
When a weatherman finds himself reliving the same day over and over again, he begins to question his purpose in life. This comedy classic will bring plenty of laughs and serious food for thought.
10. Ten Things I Hate About You
Kat Stratford is a smart and opinionated teen who doesn't take anything from anyone. Unfortunately for her sister Bianca, she's not allowed to date until Kat does. Thus, strings are pulled, and drama ensues.
11. The Golden Compass
Lyra Belacqua embarks on a journey to the icy Northern Lands to solve the mystery of her best friend's disappearance. Along the way, she encounters strange creatures and even stranger secrets.
12. La La Land
This award-winning musical follows Mia and Sebastian as they pursue their dreams in Los Angeles while struggling to keep their relationship alive. The beautiful music and stunning visuals will have you mesmerized.
13. Ratatouille
This family-friendly animated classic tells the story of Remy, a rat with a newfound passion for cooking. Despite his best efforts, he must find a way to make dining at a human restaurant work without anyone finding out.
14. Little Miss Sunshine
This comedy follows the Hoovers as they embark on an eventful road trip to get their youngest family member to a beauty pageant competition in California. Expect plenty of laughs and heartwarming moments throughout.
15. The Grand Budapest Hotel
For the most stunning visuals and an unforgettable adventure, turn to 'The Grand Budapest Hotel.' Follow the concierge M. Gustave as he helps a young lobby boy with an unusual request. As the two become close, trouble awaits them.
16. Home Alone
Since you're alone, why not follow Kevin McCallister as he's left home alone to fend off two bumbling burglars? Home Alone and Home Alone 2: Lost in New York will surely put a smile on your face.
17. Forrest Gump
Forrest Gump is an inspiring story of a simple-minded yet kindhearted man who finds himself during historical events. Watch as he follows his heart and discovers love and friendship along the way.
18. Good Will Hunting
Arguably one of the best rainy-day movies, 'Good Will Hunting' follows a troubled genius as he embarks on a journey of self-discovery. His newfound best friend helps him face his inner demons and find his true purpose in life.
19. Love Actually
What's better than one love story? Nine of them! This romantic comedy follows multiple couples as they grapple with the ups and downs of relationships and discover that love can come from unexpected places.
20. Dead Poets Society
This classic drama is about an English teacher encouraging students to think outside the box, explore their passions, and live life to the fullest. Witness their transformation as they learn to think for themselves and stand up for their beliefs.
Wrapping Up
Now that you know all about the best rainy-day movies, why not cozy up with your favorite blanket, snacks, and drinks and enjoy a movie night? However you choose to spend the day, we hope it's filled with warmth and joy!