If you ever find yourself standing in front of your closet on a rainy day, trying to decide what to wear for school, know that you're not alone! Deciding what to wear on a rainy day to school can be tricky because you don't want to look overly drenched from the rain or too bulky from all the layers.
Fret not; we're here to help! If rain days have got you stuck as far as style goes, read on for 10 cool ideas you can rock on the next rainy day.
What Should Kids Wear on a Rainy Day?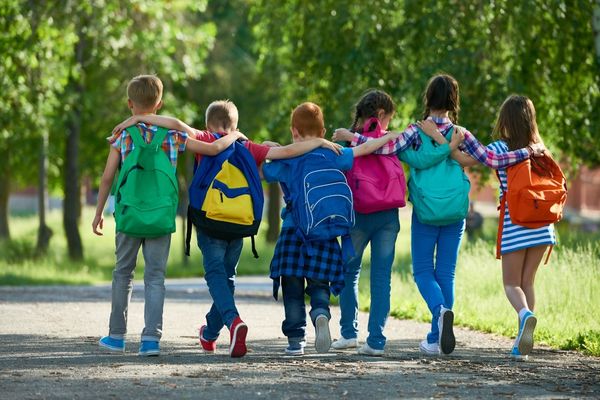 For kids, deciding what to wear on a rainy day to school is fairly straightforward. After all, a 9-year-old won't care about what's fashionable and what's not – all they want is to stay dry! Here are a few ideas:
1. Raincoat + Jeans + Wellington Boots
Raincoat, jeans, and wellington boots make for an excellent combination for kids to wear to school on a rainy day. Not only are they comfortable, but also stylish and practical – what more could you want?
2. Hoodie + Leggings + Rain Shoes
Hoodies paired with leggings and rain shoes make a great outfit too. Not only is this combination comfortable, but it also looks stylish and modern. And since leggings are thin and lightweight, they won't make your child feel too hot or stuffy.
3. Rain Poncho + Jeans/Shorts + Sneakers
Rain ponchos are a great way to keep your child dry on a rainy day. They come in all sorts of bright colors and designs, so you can always find one that your child will love. Pair it with jeans or shorts (depending on the weather) and some comfy sneakers, and they'll be ready to go!
You'll want to make sure to get a poncho that is waterproof and long enough to cover your child's entire body. They can stay dry without worrying about their arms or legs getting wet.
4. Raincoat + Jumpsuit/Playsuit
If your kid wants to switch up their style on a rainy day, why not go for a raincoat and jumpsuit/playsuit combination? This look is the perfect balance between both comfort and style – you can't go wrong.
5. Raincoat + Skirt/Dress + Rain Shoes
Opt for a raincoat, skirt, or dress combination for a more feminine look. This is perfect for kids who don't want to feel too stuffy in jeans or trousers on a rainy day. And if you pair it with sleek rain shoes.
Regarding the raincoat, go for one with a hood and bright colors. And if you're looking for something extra special, consider getting one with a tutu-style skirt or lace details.
What Should I Wear to School on a Rainy Day?
If kiddo style isn't what you're after, here are some ideas for what to wear on a rainy day to school if you're an adult:
1. T-Shirt Dress + Raincoat + Rain Boots
T-shirt dresses are a great option for rainy days at school. They're comfortable, easy to style, and super versatile – you can dress them up or down depending on your mood. Pair it with a raincoat and some stylish rain boots for the perfect rainy-day look.
This super chic and comfy combo is ideal for adult women who want to stay dry without compromising on style.
2. Jeans + Sweater + Rain Jacket + Boots
Jeans paired with a sweater and a rain jacket are a great way to stay dry while still looking stylish. Depending on your taste, you can go for an all-black look or mix and match colors such as black/navy, gray/brown, etc.
3. Midi Skirt + Long Sleeve Shirt + Raincoat
If you want to look chic and sophisticated on a rainy day, go for a midi skirt paired with a long sleeve shirt and raincoat. This combination is stylish and practical – the skirt will protect your lower half from getting wet, while the raincoat will give you extra coverage.
4. Slip Dress + Casual Tee + Raincoat
Slip dresses are a great way to stay stylish and dry on a rainy day. Pair it with a casual tee underneath, then add a raincoat for extra protection. This combination looks modern and fashionable without sacrificing comfort or practicality.
5. Sweater Dress + Leggings + Raincoat
If you're looking for a warm, practical outfit on a rainy day, try pairing a cozy sweater dress with some leggings and a raincoat. This combo is both stylish and comfortable – plus, it's easy to pull together. You'll stay dry but still look fashionable.
How Can I Look Cute for School When It's Raining?
Deciding what to wear on a rainy day to school is one thing, but looking cute is another. Here are some tips for how to look cute in the rain:
Accessorize: Rainy days don't have to be dull or boring – try adding some accessories, such as a statement necklace or a bright scarf, to add a pop of color and style.
Add Color: Brighten your rainy day look with colorful pieces, such as a bright raincoat or printed umbrella.
Layer Up: Layering is key for rainy days – try pairing a t-shirt dress with leggings and a sweater for extra warmth and style.
Hair Help: Keep your hair looking cute by wearing it in an updo or braided style – this way, it won't be dripping wet when you get to school.
Footwear: Invest in a pair of waterproof shoes such as rain boots or wellingtons – they'll keep your feet dry and look stylish too.
Conclusion
Now that you know what to wear on a rainy day at school, you can stay dry, comfortable, and stylish all at the same time. Whether you're looking for an outfit for your child or yourself, plenty of options are available to keep you looking on-trend and feeling great.
So don't let a rainy day ruin your style – grab a raincoat and rock it!