If you've ever been stuck inside on a rainy day with your pup, you know how hard it can be to think of something fun to do! It can feel like the longest (and boredom-filled) day ever, but don't fret – we're here to help break that monotony so that both you and your dog can stay happy and busy indoors!
In this article, we'll share 10 creative ideas for what to do with dogs on a rainy day. From activities that use everyday household items to games and even some special treats – we've got something for every pup!
Let's dive in!
Is It OK for Dogs to Be Out in the Rain?
The short answer is yes, but you should use caution and pay attention to the weather conditions. Generally speaking, it is perfectly safe for your dog to be outside in the rain. Just like people, a bit of fresh air and exercise can benefit a dog's physical and mental health.
However, you should know what kind of precipitation your dog is exposed to.
If it's raining heavily or there is a thunderstorm, consider bringing your furry friend back inside for their own safety. Exposure to cold and wet weather for too long can cause your pet to become ill, such as hypothermia or even pneumonia.
How Do You Keep a Dog Busy on a Rainy Day?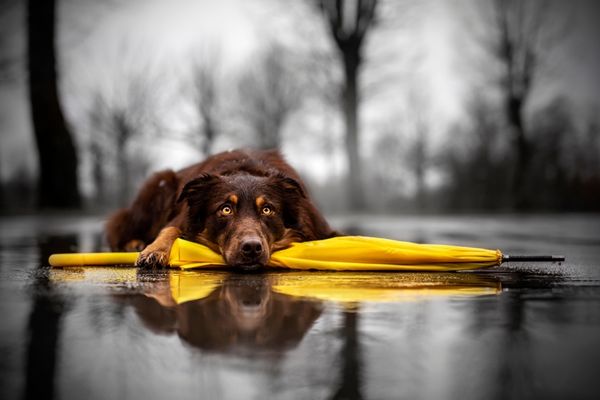 Stuck indoors and not sure what to do with the dog on a rainy day? Here are 10 fun ideas to keep your pup busy and entertained indoors:
1. Play a Game of Hide and Seek
Hide and seek is a great way to keep your pup busy on a rainy day! Not only is it fun and interactive, but it's also a great way to stimulate your pup's senses. Dogs have an incredible sense of smell that needs frequent exercise – hide and seek is one way to give their nose some much-needed stimulation while they try to locate their favorite toy or treat.
2. Do Indoor Agility Training
If you have an active pup who loves to play, agility training is the perfect way to help them stay active and engaged on a rainy day. Agility training is great for building mental and physical strength while providing your pup with fun and challenging tasks.
3. Have a Spa(w) Day
Every pup deserves a spa day – even on a rainy day! Treat your four-legged friend to some soothing spa treatments, such as a bubble bath or doggy massage. If you're feeling extra generous, you can add fun accessories like a bowtie or bandana to the mix.
4. Play the Three Cup Game
The three-cup game is a fun and easy way to keep your pup entertained on a rainy day. You need three plastic cups, a few treats, and some of your pup's favorite toys.
To play the game, place a treat under one of the cups and move them around in front of your pup. They aim to figure out which cup the treat is under and then paw or nose it out! This game helps keep your pup engaged while also testing their problem-solving skills.
5. Arrange a Doggie Play Date
Rainy day blues got your pup feeling low? Arrange a doggie play date with one of their friends or a new acquaintance! Meeting up with other dogs is great for socialization and helps to keep them entertained.
6. Create an Indoor Scavenger Hunt
Send your pup on an indoor scavenger hunt! Hide some of their favorite treats and toys around the house, and then watch as they search high and low to find them. Creating an indoor scavenger hunt is a great way to keep your pup's brain active and engaged while also giving them a fun activity to do on their own.
7. Play Tug-of-War
Tug-of-war is a great way to get your pup's energy out on a rainy day. It's also an excellent way to build up your pup's strength and confidence while helping them release some of their pent-up energy.
8. Go Bubble Chasing
Bubble chasing is one of the most fun activities you can do with your pup on a rainy day. All it takes is some bubble solution and a wand or two – and then you're ready to have some serious bubble-popping fun!
9. Teach New Tricks
Rainy days are the perfect time to teach your pup some new tricks. Have them practice all the tricks they already know or work on teaching them something new. You can use food rewards or positive reinforcement to help them learn the trick quickly and easily.
10. Build A Fort
A rainy day wouldn't be complete without building a fort! Gather up some blankets and pillows, and turn your living room into a cozy little den for you and your pup. You can also add some fun decorations like string lights or stuffed animals to make it extra special.
What to Do if It's Raining and You Need to Walk Your Dog?
You can do a few things if it's time for your regular walk and the rain won't let up. First, dress up in waterproof gear and prepare your pup for their outing.
Try to find some sheltered areas (like under trees) along your route where your pup can take a break from the rain. You'll also want to keep an eye on puddles and other slippery surfaces.
If you don't feel comfortable walking in such wet conditions, staying indoors might be best until the rain stops. You can still have fun with your pup on a rainy day!
Wrapping Up
Deciding what to do with a dog on a rainy day doesn't have to be a difficult task. You can do plenty of fun activities with your pup, from long walks and hide-and-seek to bubble chasing and fort building!
Remember that the best activity for your pup on a rainy day will depend largely on their age, energy level, and what they enjoy doing. Whatever you choose to do, make sure it's safe and fun for both you and your pup.