Let's be honest, rain is not always the favorite weather among parents with young children. With the kiddos stuck inside, finding new ways to pass the time can be tough. All that energy and nowhere for it to go!
It doesn't have to be a total despair situation; instead of dreading those rainy days, think of them as an opportunity for some real quality time (not just huddled up together watching TV!).
If you're wondering what to do with a toddler on a rainy day, read on for 20 ideas of fun activities you and your little one can do together.
How Do I Keep My Toddler Busy on a Rainy Day?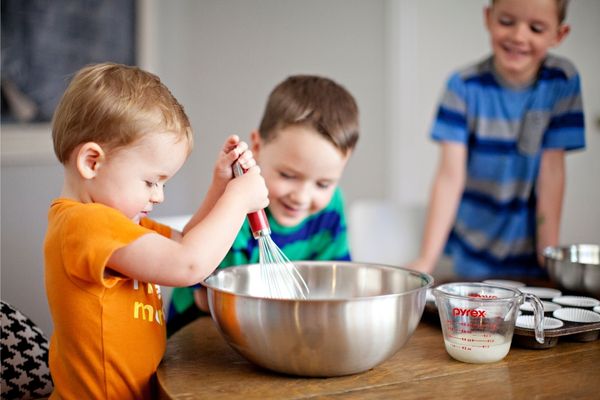 Keeping a toddler busy on a rainy day is not as hard as it may seem. All you need is creativity, imagination, and patience to turn a boring day into an adventure. Here are some ideas on what to do with a toddler on a rainy day to keep them busy:
1. Make a Messy Art Project
Nothing fuels toddlers' imaginations like getting their hands dirty! Gather some non-toxic art supplies, such as paper, glue, paint, markers, and glitter, then let your little one create whatever they want.
2. Get Cooking
Even young children can help in the kitchen! Invite your toddler to join you for a cooking session and let them help mix, measure, stir and decorate. The result will be a delicious snack — plus some quality family time.
3. Play Dress Up
Gather old clothes, accessories, hats, and more from around the house (or your nearest thrift store) to create a dress-up box your child will love. Let them go crazy and mix and match things however they like!
4. Have an Indoor Picnic
Let's be honest: what kid doesn't love a picnic? Set up a fun "picnic" in the living room, complete with a blanket, picnic basket, and all the yummy snacks you can put together. Not only will it get
5. Get Moving with Yoga
Yoga is a great way to help your toddler burn some energy and stay active — even when they're stuck indoors. Try going through some simple poses or playing yoga games such as "pretend you're an animal" or "pretend that you're flying."
6. Enjoy a Puppet Show
Puppet shows are a fun way to keep your toddler's attention and imagination. Gather some old socks and craft supplies, then create puppets with your little one. They can then put on their own puppet show featuring the characters they created — even if it's just for you two!
What Can I Do With a Toddler Outdoors?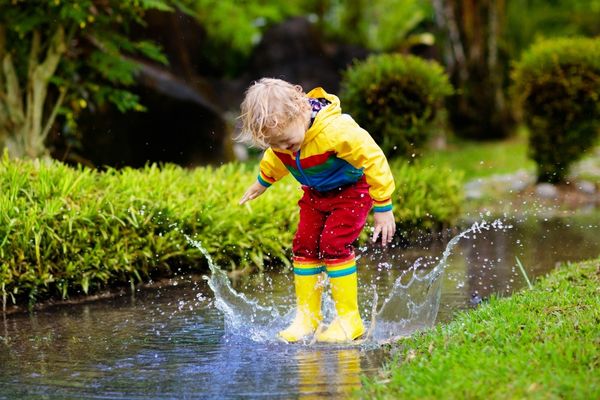 If your toddler is restless and you're brave enough to venture out despite the rain, here are some ideas for what to do with them outdoors:
1. Take a Nature Walk
Grab your raincoats, umbrellas, and some snacks, then take your toddler on a nature walk. Even if you don't go far, they can still explore what's around them and find all kinds of interesting new things, such as animals, plants, and more.
2. Visit a Local Park
Find a park close to your home that's open in the rain and take your toddler there for some outdoor playtime. Look for parks with rubber surfaces or covered areas to help keep them dry as they run and jump around.
3. Ride a Bike
If your little one is old enough, hop on the family bike and take a ride around the neighborhood together! Just make sure that you have proper safety gear and accessories (like a bike helmet and raincoat) to keep your toddler warm and dry.
4. Go for a Swim
If you have access to an indoor swimming pool, what better way to spend a rainy day than splashing around in the water? Just make sure that your toddler is supervised at all times and given proper swimwear for safety reasons.
5. Play in the Rain
Let your toddler experience what it's like to play in the rain by putting on their favorite raincoat and waterproof shoes, then head out to the backyard (or a nearby park) for fun. From jumping in puddles to playing games with umbrellas, there are plenty of ways to get creative and make the most of a rainy day.
6. Visit a Playground
Find an open indoor playground or play center during rainstorms and let your toddler run wild. Most places have plenty of activities to keep them entertained while they stay dry, such as slides, trampolines, ball pits, and more.
7. Scavenger Hunt
Have your toddler help you search for items outside your home, such as leaves, rocks, twigs, and more. This activity gets them to explore what's around them and learn about nature in the process.
What Can I Do With a Toddler Indoors?
If you're stuck indoors and wondering what to do with a toddler on a rainy day, here are some ideas for what to do indoors:
1. Have a "Silly Science" Day
A "Silly Science" day is a great way to keep your toddler active and entertained on a rainy day. Create a fun science experiment or two (check out Pinterest for some ideas) and let them explore what happens when you mix different ingredients together.
2. Get Crafty
Gather some arts and crafts supplies such as crayons, paper, glue, glitter, and more, then get crafting! Your toddler will love making their own works of art, and you'll get to spend some quality time together.
3. Have a Dance Party
Put on your favorite tunes, turn up the volume and let your toddler show off their best dance moves! It's a great way for them to get moving and have fun at the same time.
4. Bake Some Treats
Baking with your toddler can be a fun and educational experience. From measuring ingredients to mixing them together, they can learn many things while having fun in the kitchen.
5.   Read Books Together
There's nothing quite like snuggling up on the couch and reading some stories together. Whether they're classic tales or new books, your toddler will love discovering what's inside each page as you read aloud.
6. Play Board Games
Get one of your favorite board games (or a simple game like Memory) and let your toddler join in the fun. It's a great way to teach them about taking turns, following rules, and exercising their brain.
7. Set Up an Obstacle Course
Make use of what you have around your home and set up an obstacle course for your toddler to complete. They can climb over chairs, crawl under tables, jump through hoops, and more. Don't forget to give them a prize when they make it to the finish line!
Wrapping Up
If you're undecided on what to do with a toddler on a rainy day, these 20 ideas should inspire you. From outdoor activities to indoor fun, there are lots of ways to make the most out of those wet and dreary days.
So what are you waiting for? Get out of your rainy day rot and have some fun with your toddler!