Love is in the air this Valentine's Day, but so is the rain.  So what do you do when there's no sun to break up a romantic day? Worry not – with some creativity, you can still have an incredibly romantic Valentine's Day despite any dreary or rainy weather!
Below, we've rounded up a list of cozy and fun ways for couples to celebrate Valentine's Day together. If you're undecided on what to do on a rainy Valentine's Day, look no further – read on for some ideas that will make your hearts flutter.
What Can Couples Do on Rainy Days?
Valentine's Day is often associated with red roses, romantic dinners, and outdoor activities. But what happens when it rains? Don't worry – there are still plenty of ways to make the most of your Valentine's Day, even if the rain is pouring down.
Here are some general ideas for what to do on a rainy Valentine's Day:
Cooking Together. There's nothing more romantic than cooking a meal together in the kitchen. You can make it even more special by creating a menu that's all about love – like heart-shaped pizzas or cupcakes with pink frosting!
Movies Marathon. Gather up all of your favorite romantic movies and snuggle up in front of the TV for a cozy movie night. Don't forget the popcorn!
Relaxing Spa Night. Put on some soothing music, light a few candles, and give each other massages – what could be more romantic than that?
In the following sections, we've outlined specific outdoor and indoor activities you can do with your special someone during a rainy Valentine's Day. So if you're wondering what to do on a rainy Valentine's Day, keep reading!
What Can I Do for Valentine's Day Outdoor?
Just because it's raining doesn't mean you can't have some outdoor fun. Here are a few activities that will make great use of the wet weather:
1. Go for a Rainy Day Walk
There's something really romantic about walking in the rain together as lovers. Head to your nearest park and enjoy a leisurely stroll.
If you want to get creative, turn this into a scavenger hunt by hiding clues around the park and having your partner follow the clues to find you.
2. Have a Picnic in the Park
Picnics are great for Valentine's Day, even if it's raining – bring along an umbrella and pack some plastic bags for your food!
Choose a spot near a lake or river and watch the rain as you eat together. This is a great way to appreciate nature and spend some quality time together.
3. Visit an Indoor Farmer's Market
Farmer's markets often have plenty of indoor spaces, so why not make it your Valentine's Day activity?
Explore the different vendors, sample some food, buy a few fruits and veggies, and chat about what looks good!
4. Take a Boat Ride
A boat ride is always romantic, even if it's raining outside. Find a nearby river, lake, or pond and rent a rowboat or canoe – what better way to bond with your partner while admiring the beautiful landscape?
5. Sing Your Heart Out at a Karaoke Bar
Karaoke night is an unbeatable way to have some fun together. Find a bar or restaurant that has karaoke and take turns singing your favorite romantic songs to each other!
Whether you can actually carry a tune or not, it's sure to be an unforgettable experience.
What Can I Do for Valentine's Day Indoors?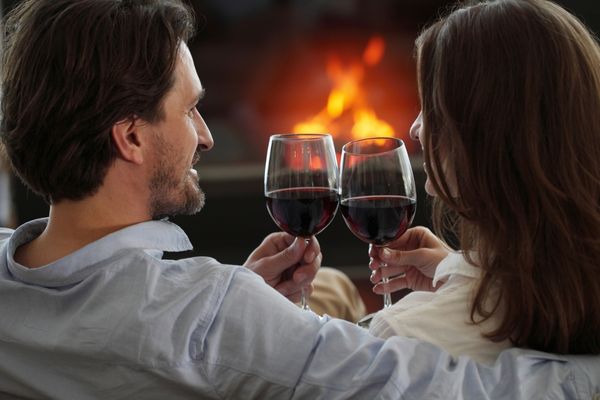 Not a fan of the rain? Don't worry – there are plenty of fun things to do indoors on Valentine's Day. Here are some ideas:
1. Bake Something Sweet
One of the best ways to beat the rain and make your Valentine's Day special is by baking something sweet.
Baking together is a great way to spend quality time with your partner while also enjoying some delicious treats at the end! Whether you're whipping up a batch of cupcakes or making heart-shaped cookies, it's sure to be an unforgettable experience.
2. Sip Wine and Paint
Grab some canvas, paints, and a bottle of your favorite wine – it's time to get creative! Not only is this a great way to bond with your partner, but you'll also end up with a one-of-a-kind piece of artwork that you can hang in your home.
Whether you're painting a landscape or abstract art, it's sure to be an unforgettable experience that will stay with both of you for years to come.
3. Enjoy a Game Night
Still not sure what to do on a rainy Valentine's Day? A game night is perfect for beating the rain and having fun!
Gather your favorite board or card games, and challenge each other to a series of friendly competitions! This is also a great opportunity to prove who's the better player – so don't forget about bragging rights.
4. Internet Scavenger Hunt
Turn your rainy Valentine's Day into a romantic scavenger hunt by sending your partner on an online mission. Give them clues that lead to different websites and activities, and let the fun begin!
Whether it's watching a movie together or finding the perfect recipe for dinner, this is sure to be a great way to spend the day with your sweetheart.
5. Get Cozy at Home
Sometimes, the best way to spend a rainy Valentine's Day is by simply staying indoors and enjoying each other's company.
Light some candles, make dinner together, or snuggle up on the couch with your favorite books or movies – what better way to celebrate love than from the comfort of home?
Final Thoughts
Whatever you decide to do on a rainy Valentine's Day, the key is to make it memorable for both of you. Now that you have a general idea of what to do on a rainy Valentine's Day go ahead and make the most of it!
With a little bit of creativity and some fun activities, you can still have an amazing time with your significant other on this special day. Happy Valentine's Day!