Ah, the sound of rain pitter-pattering against the windows outside makes us all feel a little cozier inside! But what do you do when it's time to eat? If the usual go-to for a dreary day isn't doing the trick anymore, we've got the answer – whip up one of these 10 fast and easy ideas for what to cook on a rainy day!
From warm soups that'll fill your belly with comfort to tasty baked treats sweet enough to bring sunshine back into your life, these recipes will leave you feeling nourished, energized, and happy!
Read on for a list of delicious and quick recipes that will make your day a little brighter!
What Food Is Good on a Rainy Day?
Deciding what to cook on a rainy day can be hard. But don't worry, we've got some ideas to help you out!
Soups are always a great option on a rainy day. Whether it's a classic tomato soup or something more exotic like miso ramen, it will warm your soul and fill you up.
Pasta dishes are also perfect for a rainy day dinner. Whether it's mac and cheese, lasagna, or spaghetti Bolognese, the pasta will always hit the spot on a dreary day. Add some crusty bread and a green salad for a complete meal.
How Do You Cook When It's Raining?
Now that you have a general idea of what to cook on a rainy day, the question is – how do you cook when it's raining?
First, you'll want to plan your meals ahead and ensure you have all the ingredients on hand. That way, everything will be ready to go when it's time to cook!
Next, gather any kitchen utensils and tools you will need for your recipe to ensure you are well prepared. This will save you from having to search around in the rain. Some of the most important kitchen tools are a sharp knife, pot holders, and a spatula.
Finally, light some candles or put on some music to create a cozy atmosphere while cooking – this will make the experience more enjoyable!
10 Fast and Easy Ideas for What to Cook on a Rainy Day
Without further ado, here are 10 fast and easy ideas for what to cook on a rainy day!
1. Ravioli Lasagna
Ravioli lasagna is a fast and easy recipe that you can whip up on days when it's raining outside. This delicious Italian meal combines the flavors of lasagna with the convenience of ravioli, creating a tasty dish that will fill your belly while keeping you warm and cozy.
Plus, it requires minimal prep time and doesn't require too many ingredients – making it perfect for those rainy days when all you want to do is stay inside!
2. Sweet Potato Chili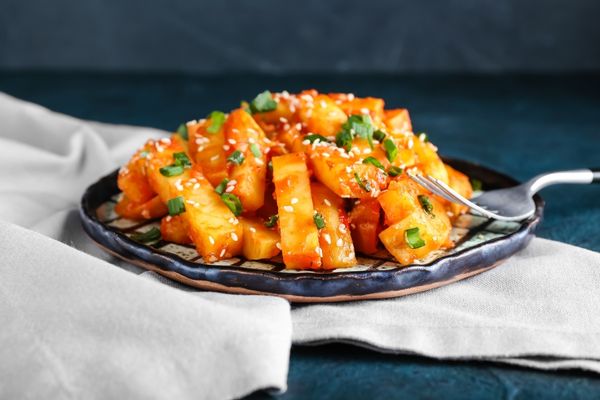 Sweet potato chili is the perfect vegetarian meal to whip up on a dreary day. This spicy and flavorful chili pairs perfectly with warm bread or tortilla chips, making it great for sharing with friends and family. It's packed full of nutrition – so you can feel good about eating it!
To make this delicious dish, you only need some sweet potatoes, bell peppers, beans, tomatoes, and spices.
3. Mac & Cheese
Ah, the classic mac & cheese – an all-time favorite! It's impossible to go wrong with a warm bowl of creamy macaroni and cheese on a rainy day. This recipe is simple, fast, and incredibly delicious.
You can even get creative with the toppings – add bacon, jalapenos, or some fresh herbs and veggies for a little extra flavor.
4. Chicken Pot Pie
Chicken pot pie makes for the perfect comfort food on a rainy day. This classic dish is warm, creamy, and full of comforting flavors.
You'll only need a few ingredients for this recipe – chicken, vegetables, broth, butter, and pie crust. You can also add some herbs to give it a little extra zing!
5. Baked Ziti
Another great Italian dish that's perfect for a rainy day is baked ziti. This delicious meal combines the flavors of pasta with a creamy sauce, creating a comforting dish that's sure to make your belly happy.
To make this dish, you only need some ziti pasta, tomato sauce, cheese, and your favorite spices. If you want to add some extra flavor, try throwing in some ground beef or Italian sausage.
6. Shepherd's Pie
Shepherd's pie is the ultimate comfort food, whether it's raining or a hundred degrees outside! This savory dish is made with ground beef, vegetables, and creamy mashed potatoes – the perfect combination for a cozy evening.
Packed full of flavor and nutrition, shepherd's pie is sure to keep you warm and your belly full.
7. Grilled Cheese
Grilled cheese is a super quick and easy meal that satisfies your comfort food cravings. The best part? It only takes a few minutes to make – so you can have your meal ready in no time!
Try adding some bacon or tomato slices to give your grilled cheese an extra flavor. This classic sandwich is sure to be a hit with the entire family.
8. Chicken Tortilla Soup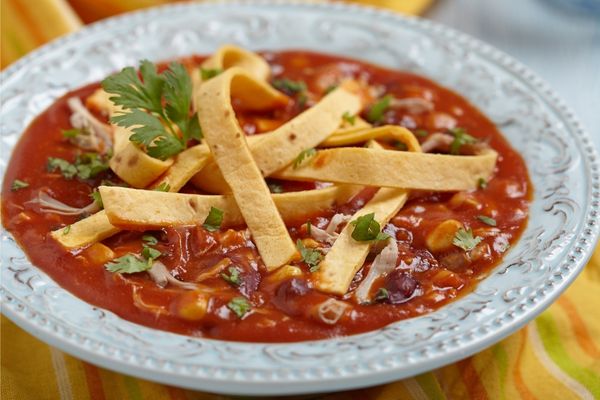 Chicken tortilla soup is a flavorful and spicy meal perfect for a rainy day. This easy-to-make dish is packed full of veggies, chicken, and spices – making it both delicious and nutritious!
Whether sharing it with friends or enjoying a bowl, this meal will surely be loved by all. Also, it only takes 30 minutes to make – so you can have dinner ready in a jiffy!
9. Egg-in-a-Hole Toast
Don't have a bunch of ingredients or much time? Egg-in-a-hole toast is an ideal and tasty option for days when it's raining outside!
This simple recipe consists of eggs cooked in a hole cut out from the center of slices of bread, creating a fun and delicious meal that takes just minutes to make. To add nutrition and flavor, you can also top it with tomatoes, spinach, or cheese for a complete meal.
10. Texas Sheet Cake Cookies
Sweet tooth's rejoiced – these Texas Sheet Cake cookies are perfect for any day! Soft and chewy, with just enough chocolate chips to get your fix, these delectable cookies will cheer on a dreary day.
These cookies only take about 15 minutes to make and bake, so you won't have to wait too long before they're ready!
To sum up
Now that you know what to cook on a rainy day, you can start preparing and cooking some delicious meals. From hearty stews to sweet treats, there's something for everyone to enjoy!
So put on your apron and get creative in the kitchen – who knows what tasty dishes you'll come up with?