Do you ever find yourself standing outside during a thunderstorm, savoring the wafting scent of rain filling the air? Rain has its unique smell – petrichor – that sparks a lot of nostalgia. If you've longed to recreate those moments indoors, we're here to help!
In this article, we have gathered 20 candles with the perfect hint of water and earthy scents reminiscent of crisp droplets hitting thirsty parched soil so you can bring that beloved scent home without waiting for storms to roll through!
Read on to find the ideal petrichor candle to fill your space and capture the essence of petrichor.
Is There a Candle That Smells Like Petrichor?
Scented candles add a touch of coziness to any room, so it's natural to wonder if petrichor-scented candles exist. You'll be glad to know that they do!
Candles that capture petrichor are a great way to bring those comforting, familiar rain scents indoors. A petrichor candle usually has similar notes like earthy elements, damp soil, and watery tones – so you can get the whole petrichor experience without ever having to leave your home.
Top 20 Petrichor Candles for People Who Love the Rain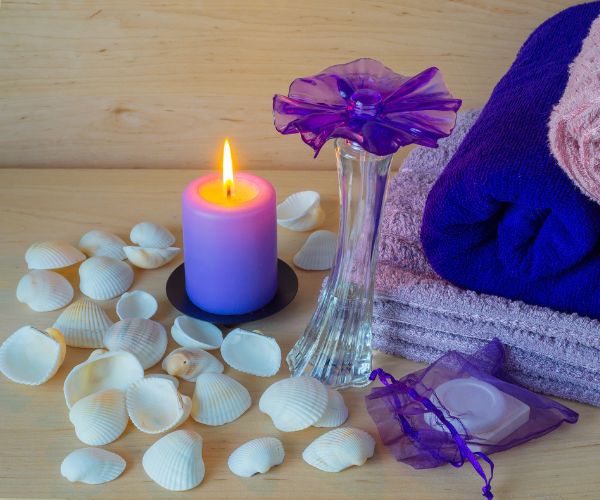 If you're looking to add a petrichor candle to your collection, here are 20 of our top petrichor candles to check out:
The La Montaña Cloudburst Scented Candle is a petrichor-like candle inspired by the fresh, crisp scent of rain on the mountainside. It has an earthy base of bergamot and basil, with light hints of lavender, lemon, and lime. Overall, this petrichor candle is perfect for anyone looking to bring the outdoors indoors and add some much-needed nature to their home.
The Big Sur Candle by D.S. & DURGA is a petrichor-like candle that embodies the essence of rain in eucalyptus groves off Highway 1. It has a unique scent that combines earthy yet brisk notes. The petrichor-like aroma of this candle is made up of young green shoots and long spears surrounded by russet underbrush – all coming together to create an unforgettable experience.
The Nomad Society's Mojave Rain Candle is one of the best petrichor-scented candles. It was carefully crafted to capture the top notes of petrichor, including orange blossom, lavender, and clary sage, for a light, refreshing scent. These notes are then rounded off with patchouli and petitgrain, creating a petrichor-like aroma that is both complex and captivating.
Yankee Candle's Fresh Rain candle is the perfect choice for anyone who brings the petrichor scent outdoors. This petrichor candle has a delicate blend of rose, rosemary, and crisp apple that create a refreshingly clean and calming aroma. Not only will this candle make your space feel inviting and cozy, but it will also invoke the petrichor scent of a freshly rained-upon landscape.
The Skandinavisk REGN Scented Candle is an excellent petrichor candle that will help recreate that beloved petrichor scent without leaving your home. When lit, this petrichor candle releases notes of misted peony, wet grass, damp earth, and slippery cobblestones – perfect for reliving the petrichor experience!
Yankee Candle's November Rain is a unique scent that is perfect for any petrichor enthusiast. With its deep watery, warm amber, and crisp, brisk air notes, this petrichor candle captures the smell of a cold autumn day after a rain shower. Despite its inviting petrichor-like aroma, November Rain has an almost masculine, intoxicating quality that will fill any room with a moody but relaxing atmosphere.
If you want to bring the scent of a tropical rainstorm into your home, then Crazy Strong's Caribbean Rain is the perfect candle for you. This unique combination of scents includes notes of fresh tropical rain, sage leaf, amber sand, and beachside greenery. All of these scents combine to create a petrichor-like fragrance that perfectly mimics the scent of the Caribbean.
If you've longed to bring the scent of tranquil summer rain into your home, you'll love Tatine's One Rainy Wish candle. This petrichor-like scent combines the crisp, sweet notes of white cedar and rosemary with hints of bergamot and mandarin oil. Together, they create an enchanting fragrance that will instantly fill your home with the uplifting scent of a summer rainstorm.
D.S. & Durga's Concrete After Lightning candle is a unique petrichor scent that combines petrichor with hints of ozone and concrete dust, giving it an incredibly unique aroma that is sure to transport your mind to a rainy summer day on the streets. With notes of electric crackle and downpour paired with panic grass and sizzling asphalt steam, this candle offers a fantastic scent that lingers in the air long after you've blown it out.
The Scentsational Storm Jar Scented Candle is the perfect candle for those who love the scent of rain. It has a pure, clean fragrance that will remind you of air during and after a storm. The grassy undertones and hints of jasmine and rosewood create a delightful aroma that will bring life — and petrichor — to any room.
Next up on our list of petrichor candles is 29 Palms by ROEN. This petrichor-like candle perfectly captures the essence of the cool morning desert air after a rainstorm. With a refreshing blend of botanicals such as eucalyptus and cedarwood complemented by hints of vibrant citrus notes and warm white musk, this candle will instantly evoke a sense of calm and relaxation.
While most candles that aim to capture the scent of rain are filled with floral, citrus, and earthy notes, Only The Best Candles' Petrichor The Smell of "Dirt and Rain candle" is focused on the more authentic side of petrichor. This handmade candle contains a blend of natural essential oils, herbs, and spices that will bring out the essence of an authentic rain-drenched landscape.
Hinoki is the Japanese word for 'cypress' and is the perfect scent to evoke a feeling of after-rain freshness. Brooklyn Candle Studio's Hinoki Scented Candle is infused with notes of cashmere woods, hinoki cypress, cedar leaf, and sandalwood, making it a perfect petrichor candle. This candle's delicate yet vibrant fragrance will make you feel like you're walking through Japan's bustling streets after a light summer rain.
There's something special about the first rain after a long period of dryness, and Haeckels' Pluviophile Rain-Scented Candle is an excellent representation of that unique scent. This petrichor candle is inspired by concrete, seawater, crushed shells, and rain, giving it a fresh, earthy aroma. With citrus, petrichor, and cedarwood notes, this candle will instantly transport you to a blissfully rainy day.
Have you ever wanted to bring the smell of a classic farmhouse setting into your home? If so, then you'll love Hudson 43's Lakeside Rain candle. This petrichor-inspired candle is reminiscent of sunshine and fresh rain, with soft wood notes, vibrant citrus, and a hint of gentle floral. It's the perfect candle to light on rainy days when you want to relax and enjoy a light summer breeze.
Try Smoky Mountain Rain by More Than A Candle for a musky and woodsy petrichor scent. This candle has a unique blend of notes such as musk, cedarwood, and rain-soaked earth that will make you feel like you're standing in the heart of the Appalachian Mountains after a light summer shower.
White Barn's The Rainforest candle is a sweet and cool mix of petrichor notes that will remind you of the Amazon rainforest. It has top notes of wet grass and leafy greens, complemented by mid-notes of vetiver and light florals. The finish is a blend of earthy patchouli, warm cedarwood, and musky amber — all of which combine to create an irresistibly fresh rainforest aroma.
Homesick's United Kingdom candle is inspired by the classic British summer and all its rain-soaked glory. The top notes of this petrichor candle are reminiscent of bergamot and wet grass, while the mid tones contain a hint of earl grey tea and apple crumb — perfect for a rainy day. The bottom notes of this candle feature hints of toffee and vanilla, making it the perfect candle to light up a cozy and rainy evening at home.
Village Candle's Rain Melts are the perfect way to bring the sweet aroma of petrichor into your home. These wax melts are made from natural soy wax and provide a clean and long-lasting burn. With scents ranging from rain-soaked dirt to crisp citrus and gentle florals, these melts have all you need to create a cozy atmosphere on rainy days.
Wicks + Scents' Desert Rain Wooden Wick Soy Candle will make you feel like you're walking through a desert oasis after a light summer shower. This petrichor candle has notes of citrus, earthy spices, and musk that combine to create a unique and exotic aroma. The wooden wick also adds an element of warmth to the overall scent, making it the perfect candle to light on chilly, rainy days.
Wrapping Up
A petrichor candle is a perfect way to bring a little summer rain into your home. From floral scents to woodsy aromas, there's something for everyone. So go ahead and pick up one of these 20 petrichor candles to bring freshness and warmth into your home on a rainy day.